SONGTRUST'S CREATOR CLIENTS ARE
If you're a producer, a beatmaker, a band member, or anyone else who creates songs alone or in collaboration with others, you are a songwriter, and you are owed publishing royalties when your songs are played and streamed around the world.
It's never been easier to ensure you're collecting everything you've earned.
Learn More
Music Publishing 101
These 30 - minute live sessions empower attendees to gain a better understanding of DIY music publishing. Led by out team of publishing specialties, you'll leave understanding the role publishing plays in revenue collection, the breakdownn of an original song ( master recording vs. composition), and all the necessary components to determine if and when you need publishing.
The Modern Guide to Music Publishing
The Modern Guide to Music Publishing
Our Modern Guide to Music Publishing starts from the basics - the rights you have as the creator of an original song - and takes you step-by-step to some of the more complex (but no less important) aspects of your song rights on a global level. Whether you're just learning about music publishing, or you've been in the business for years, you'll find our Guide to be an educational resource and an essential reference.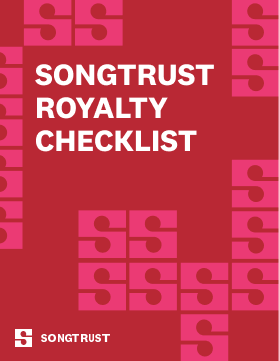 Enter Your Info to Download